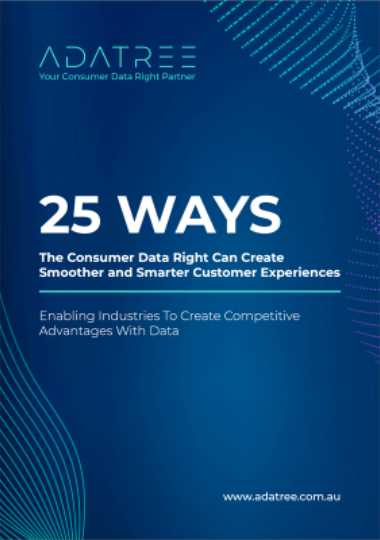 Ready to see how Open Banking can the catalyst for innovation?
Adatree has collated 25 use cases exploring how Open Banking can be applied to drive innovation across a variety of industries and sectors.
Each use case has been written with a customer-centric approach to help businesses ideate ways to delight their clientele and gain a competitive advantage in market.
We've broken the uses cases down into two categories:
Smoother Use Cases that increase speed to outcomes and reduce cost of services
Smarter Use Cases that drive innovation in analytics, personalised offerings and predictive modeling
Who will find this report useful?
Anyone working in Product, Innovation, Operations, Finance, Customer Success, Credit, Risk, Engineering and Strategy.
cross-industry opportunities
Our report has examples of how being a Data Recipient is applicable to all sectors and industries, including:
Financial Services
Banking
Insurance
Lending
Payments
Superannuation
Broking
Financial Technology
Financial Advice
Wealth Management
Beyond Financial Services
Energy
Government
Hospitality
Transport
Telecommunications
Comparison Sites
Retail
Real Estate
Education
Professional Services
And More
Download Adatree's Open Banking Use Case Report